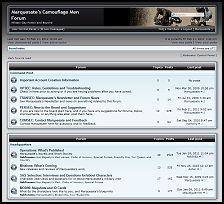 Marquesate's Camouflage Men Forum is a friendly and welcoming place for everyone.
I have had increasingly serious problems with human spammers who are creating so many spam accounts a day that it has become unmanageable. I can no longer figure out what is a genuine account request and what is spam, thus I have to take this measure of asking anyone who'd like to join the forum, to contact me first so I can open up account creation temporarily.
Contact me via the contact form below and tell me that you want to create an account. Don't forget to tell me your chosen username, so I can make sure I activate the correct account. I also need your email address, or I won't be able to contact you to let you know that account creation is open.
Sorry for the inconvenience, but even Captcha and admin activation cannot stop the human spammers from creating endless fake accounts.